Sometimes, a forum or even a chat is not enough. You want direct communication with someone across the world, with voice and visual support. For quite some time now Skype is one of the leading Voice-over-IP solutions, even having support for connecting to the outside world (=regular phones) and creating phone conferences (=phoning with multiple people).
Add a nice screen-sharing program to that, maybe even a collection of web-based productivity applications and you should be able to discuss and write down your ideas pretty quickly.
Services covered in this document
So you want to share your ideas across the pond. And don't want to pay for an all-fancy conferencing platform, like for example GoToMeeting, WebEx, Meeting Zone, and so on. Well, if it is about smaller meetings (up to 5, maybe even 8 people) there are services available for free, some of which I'd like to describe in this document.


Voice-Chat. Talk to each other, without cost besides your Internet Account. In this document, I'm using Skype for that.
Video-Chat. See each other while talking. I'll also use Skype for that
Screen-Sharing. See what the other ones are doing while still being able to control your own PC. For this, I'll use Netmeeting (which, unfortunately, only seems to be available for MS Windows)
Web-based documents. For writing down your ideas, you can for example use Google Documents. It supports Textprocessing, Spreadsheets and Presentations.
Planning your meeting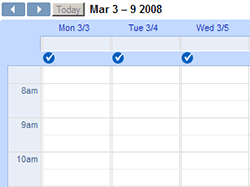 Google Calendar
Sometimes (for me, a lot of times), people you want to conference with are in different timezones. The first interesting part here is to find the appropriate date and time for your meeting. It helps a lot for the meeting coordinator to collect all the different timezones people involved in a meeting work in. Also note, while 2pm local time seems to be a good time for most people, it could mean having to be awake after a long night-shift for some (Hello Susan :-)), so it helps to know about people's lifestyle / work situation too.
Sure, mail can be enough for planning your meeting. But you might also want to use an online calendar like for example
Google Calendar
to make sending out your appointments easier. That way, the timezone-conversion is done for you automatically. Alternatively, you can use tools like the
World Clock
to figure out more about your conference partners' timezone.
Getting ready for your meeting
So you have your date and time planned, even know how long your meeting should last. Now, you need to prepare your tools. It's like sharpening a knife prior to cutting your expensive meat. Some web-based tools like the mentioned web-based documents, only need an user account. In case of Google Documents / Calendar, you only need one single account for all of the services per person.

Other tools, like NetMeeting and maybe even Skype, need some more preparation. For NetMeeting, you need a couple of ports forwarded in your local network-router. But trust me, the effort is not that much and NetMeeting can be set up in maybe half an hour. You then never need to touch that again. I'll describe more details about that process on the following pages.