updated by
rck
, 2007-01-02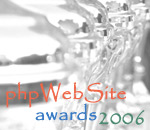 What can be more thrilling than a nice and fair competition? A competition of skilled webmasters and webmistresses, gifted and proven masters of phpWebSite? Well, I could think of a couple of things. Anyway, here's the plan.
There are three categories: Commercial, Non-Commercial and Creative. Commercial and Non-Commercial sites should be an obvious distinction. But what about the creative ones? This category is for "most creative phpWebSite use" and requires the participating sites to have either a self-made theme or at least one self-made module.
Update
: We have a winner! The
Femme Fatales
got the most votes and thus won the phpWebSite awards 2006. Congratulations!